Ping can be used to give an indication of Internet Health from GSP's perspective. This is not an indication that one ISP is superior to another. This ping analysis times how long it takes a message (packet) to go from our Sterling, Virginia facility to another location on the Internet and back. The graph below shows the average ping result (from 50 samples) for the past 24 hours.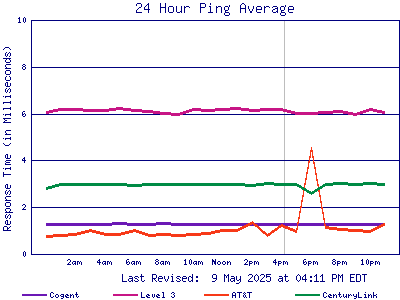 This ping analysis is conducted once every hour and takes about one minute to complete. To see the raw data (ping min/avg/max from 50 samples) that was recorded for the past 24 hours, click on one of these ISPs:
Name
Location Tested
24 Hour
Moving Average
Sprint
ns1-auth.sprintlink.net
6.255 ms
Cable & Wireless
ns3.cw.net
6.434 ms
Level 3
ns2.l3.net
1.735 ms
Verio
ns2.secure.net
0.000 ms
Last Revised: 13 Aug 2020 at 04:11 PM EDT
We use redundant OC12 and OC48 connections via NTT Communications to host our customers Internet presence. Our Network Topology Map can give you a visual perspective.

The high performance NTT National Network is fast, reliable and scalable. It combines key components that are critical to the operation of a state-of-the-art Internet service:
A high capacity national backbone
A 24-hour Network Operations Center (NOC)
Superior engineering support services
The National Network links NTT's local points of presence to each other and to the key national exchange points - MAE West, MAE East, NY NAP and the Digital Internet Exchange, located in Palo Alto, California. The network features OC48 and OC12 links which connect the national exchange points and NTT access points. NTT's regional networks and carrier class POP facilities connect to one of the access points located in metropolitan areas throughout the United States. Network capacity has been increased to OC48 and OC12 capabilities and additional access points are being added as NTT expands its service area.